Vi er meget restriktive til benyttelse av additiver.
Biocid er en gift som skal kunne drepe bakterier – det er ikke slik at ved å drepe bakteriene at en har en ren tank, eller rent drivstoff. Eneste en har oppnådd er å avslutte celledelingen til bakteriene, tankene må allikevel gjennomgå en tankvask, eller dieselpolering. Produktet er et industrielt produkt som ikke kan selges private, pga effekten dette produktet har. Det er regnet som verdens kraftigste biocid for dieseldyr.
Vi er den norske importøren av Grotamar 82.
Grotamar 82 fungerer mot mikrobakteriell forurensing (dieseldyr) og formering av biomasse i dieseltanker.
Grotamar 82 erstatter Grotamar 71, og er det første stoffet med en ny beskyttende formel for moderne diesel drivstoff.
Grotamar blir produsert av det tyske firmaet Schülke & Mayr GmbH.
Schülke & Mayr GmbH er internasjonalt ledende innenfor tilsetningstoffer for effektiv beskyttelse av tank, rørsystem og motor.
Grotamar 82 kan leveres i 2 størrelser:
1L og 10L
Vi lagerfører kun 1 litre.
Grotamar® 82 kort fortalt:
– Spesielt utviklet for moderne diesel, diesel med lavt   svovelinnhold og drivstoff som inneholder biodiesel.
– Ny beskyttende formel for å forhindre for tidlig nedbrytning av oljen forårsaket av aldring.
– Hurtig og ekstremt effektiv mot bakterier, gjær og sopp.
– Effektiv beskyttelse av tank, rørsystem og motor.
– Løser seg meget lett opp og sprer seg godt i alle typer diesel, forbrenningsolje (inkludert B0-B20) og biodiesel
– Ingen korrosive stoffer genereres under forbrenning.
– Beskytter effektivt stål, aluminium, kobber, og andre ikke jernholdige metaller mot korreksjon.
NOT AVAILABLE TO THE PUBLIC, BUSINESS USE ONLY
Preservative for modern B5* – B100* diesel fuel and heating oil.
Whether "diesel bug", "fungus", "bacteria" or "MBC" – infestation by microorganisms in diesel fuel has many names.
Whatever you call the phenomenon, it has a common cause. Free water in the diesel will enable the growth of bacteria, yeasts and moulds. Small amounts of water which form by condensation are sufficient to stimulate microbial growth in a fuel tank.
Today, "fossil" diesels are blended with environmentally friendly biodiesel. Biodiesel is good for the environment but also good for microbes. Biodiesels are a good source of nutrition for microbes and they promote the contamination of the fuel with water. Biodiesel is also less stable than "fossil" diesel and degrades with ageing leading to darkening and formation of solid deposits.
Microbes grow faster than ever, forming "biomass" and causing corrosion. The "biomass" clogs filters and leads to engine failure. This places the operating reliability and safety of the whole system at risk!
Notes regarding fuel duty:
Grotamar 71 was the original product, it is 99% active ingredient, has been used for many years by industry, it does not have UK fuel duty paid on it in advance so should only be used by oil companies where duty will be paid on the final volume of fuel.
Grotamar 82 is a blend of Grotamar 71 and proprietary additives specifically designed for modern fuels that contain BIO content.  It has the advantage that fuel duty has already been paid on it so can be used by end users of fuel.  It is based on the same active ingredient as Grotamar 71 (MBO) but has added properties due to its formulation.  It does not require substantial mixing with fuel to use it, it contains anti-oxidants to help preserve modern diesel fuels and it has metal pacifiers present to help prevent corrosion from occurring in the fuel system it is added to.
Grotamar at a glance:
Fast bactericide and fungicide efficacy (incl. sulphate-reducing bacteria)
Enhances anti-corrosion and anti-oxidation properties
Provides excellent long-term protection against microbial material degradation
Contains no organically bound chlorine (acc. 19. Bundes-Immissionsschutzgesetz**)
Excellent soluble in biodiesel, diesel fuel and heating oil with biogenic compounds
Improves storage stability of B5* – B20* diesel blends
Keeps the tank system clean
specifically developed for modern diesel fuels including low sulphur diesels and fuels containing biodiesel
New protective formula to prevent premature oil degradation caused by ageing
Fast and highly effective against bacteria, yeasts and moulds
Excellent long-term protection for fuel tank, pipes and engine
Excellent solubility and dispersion in all types of diesel fuels, heating oils (including B0-B20) and biodiesel
No corrosive combustion products
Effectively protects steel, aluminium, copper and other non-ferrous metals against corrosion
* Biodiesel amount in % blended in mineral oil diesel
** German Law on the Prevention of Emissions
Dosing:
(Follow application instructions):
Shock dosing:
Add 200 ml of grotamar® 82 per 200 L fuel or 1 L per 1000 L fuel
Preventative:
Add 200 ml of grotamar® 82 per 800 L fuel or 1 L per 4000 L fuel (1:4000)
Every time the tank is refilled
Ved hyppig benyttelse av additiver, som Biocider, kan en få en bakteriekultur som blir resistente. I de tilfeller, finnes det ikke et produkt som vil hjelpe.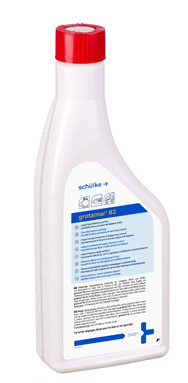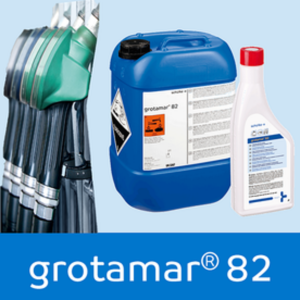 Spesielt utviklet for moderne diesel, diesel med lavt svovelinnhold og drivstoff som inneholder biodiesel.
Bremser nedbrytning av diesel forårsaket av aldring.
Effektiv mot bakterier, sopp og gjær.
Beskytter tank. Rørsystem og motor.
Ingen korrosive stoffer skapes under forbrenning.
Beskytter stål, aluminium, kobber, og andre ikke jernholdige metaller mot korrosjon.